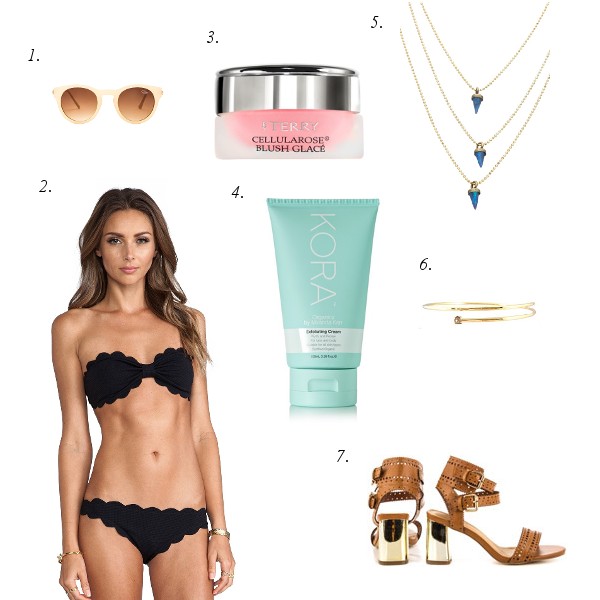 Simply click onto the items above for direct links.
From my personal experience, whether you are trying to achieve a nice natural tan or you are planning to put on your daily self-tan, you will always need a nice scrub. Lucky for you, I have found this amazing
exfoliating cream from KORA Organics
and you can still use this if you have sensitive skin. It is packed with essential oil and gives you an ultra smooth finish. You can't go wrong with Australian babe Miranda Kerr 's products when it comes to 'how to achieve the perfect tan'! I have tried countless of self tanners myself and I always come back to this
St Tropez Bronzing Mousse
. Trust me, don't go for gel self tanners, you will end up with uneven patches and that's just nasty…
I usually don't make collages with models in it, but I think this will make you see how PERFECT this Marysia Bikini really is. Look at those cute raw cut, scalloped edges! You might not be able to tell but the texture is like this basket weave and its so flattering on! Hang on! Don't leave home without a pair of awesome sandals! Justfab made this seriously 'just fab' Mayah – Cognac sandals with a golden heel! Now even better! For $54.99 only! If I don't look at the price tag, I would think this may cost something like Isabel Marant or Tory Burch OR Michael Kors… right?